Last updated in 2021.
In this guide to prostate massage, I'm going to tell you how you can achieve hands-free prostate orgasms. I will also give you a list of the best prostate massagers and P Spot Vibrators that I have personally tried. I'm a sex toy reviewer and love prostate massage, so I have tested many P Spot Toys and know what I'm talking about.
Whether you are looking to perform prostate massage on yourself or on a partner, you can learn something from this guide 😉
Table Of Contents
– Table of contents (click) –
Who can use P Spot Massagers?
If you have a penis, you also have a prostate gland. No matter your sexual orientation, if you have a prostate gland, you should stimulate it!
Many people are put off by the idea of anal play because there are long held prejudices that still exist in the straight community. If your question is relating to that, then absolutely don't worry about it. Everybody can and should enjoy prostate massage. If you have a prostate gland, then pleasuring it is kind of the point!
The prostate is involved every time you orgasm, whether or not you are stimulating it directly. We are very lucky that we can access the prostate gland at all. Therefore don't be shy about where it is located. You are able to access the prostate gland through your anus. If you never explore that part of your body then you really are missing out.
By stimulating the prostate gland through your anus, you are able to max out the amount of pleasure available to you. Stimulating the P Spot directly can give insanely powerful orgasms. So if you haven't already tried stimulating the prostate, start trying!
---
Where is the P Spot?
To find the P Spot, you need only pry a few inches into your anus. It is near the upper wall of your anus (the wall nearest your stomach). So when feeling in that spot you should feel a small bump. It isn't quite as large as a ping-pong ball for me but it isn't much smaller either. Hitting the P Spot is actually fairly easy, you just need to know roughly where to press.
To explain further how to find the P Spot, the following diagram should help.
P Spot Diagram
Many people don't know precisely where the P Spot is. Here is a diagram of where the prostate gland is. The apple of eden marks the spot! Also note the direction I have drawn for the sperm. They come up out of the testicles, around and through the prostate gland before exiting through the penis. I like to call this the sperm roller-coaster.
This 'sperm roller coaster' explains why the prostate gland is so integral to orgasms. It is a major part of the process. The prostate also adds up to 30% of the fluid that makes up semen. Accessing the P Spot via the anus allows you to feel some of the contractions you only usually feel during climax. In order to have a full P Spot Orgasm, it takes some extra work. I'll explain more below in my step-by-step guide to prostate massage.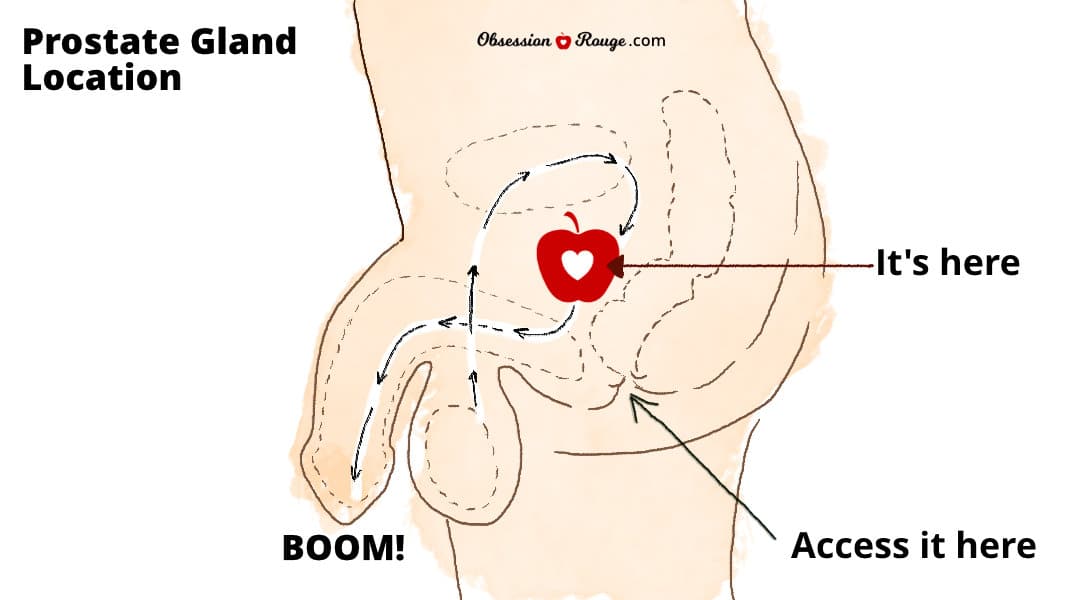 Wikipedia actually has a great page of scientific information on the prostate gland. You'll also find more diagrams there. Livescience also has an easy to understand article on the function of the prostate gland (as well as what can go wrong with it).
---
Best Prostate Massagers & Vibrators
Now it's time for a list of my top rated P Spot Massagers! I have tested many P Spot toys on this website and while most of them have been very good, some are better than others. This list will have prostate toys that vibrate, rotate and others that don't move at all.
Prostate toys can be made out of several different materials. The most common material is silicone. I really enjoy silicone prostate toys but they do offer slightly more resistance than pure metal, plastic or glass toys. Silicone just requires a bit more lube that's all. The advantage of silicone though is that it can be far more flexible than the other materials I mentioned. All of the toys on this website are body-safe. If you shop for toys that I didn't recommend, you need to make sure that they don't contain phthalates or other toxic chemicals. It is surprising how many toys are still not body-safe.
Lelo Loki Wave – Best P Spot Massager
Lelo decided to send me their Loki Wave P Spot Massager so that I could compare it to the others on this website that I've tested. I was expecting to like the Loki Wave because it moves up and down in the same way that a partner's finger tips might stimulate the prostate. What I didn't expect were the very strong vibration motors hidden inside this P Spot massager! I was really surprised that as well as having a great range of motion when moving up and down, this prostate massager feels great just from the vibrations and patterns alone. So I wasn't expecting the Loki Wave to get top spot on my list but I have to give credit where credit is due… the Loki Wave is the best prostate vibrator I currently have.
Lovense Edge 2
I hardly ever give out 9.8 star reviews, even for sex toys I really like. The Lovense Edge 2 is just AMAZING though. I can't help but love it. It's powerful, it's a great fit, it makes me ejaculate like a volcano because it's so good. Plus this thing syncs to music… any music. Connect it up to Spotify or turn on your device's mic and let it ride you away to your favourite tune. It's also good for long distance relationships or other remote control play too because it has a great app for that. It can be controlled from the other side of the world with Lovense's app. Truly awesome prostate massager.
We-Vibe Vector
The Vector by We-Vibe is also one of the few sex toys on my website to get a close to 10/10 score (it got 9.7). In my opinion it is a near perfect prostate toy. You can use it during masturbation, during sex and it can be remote controlled. The girth of the toy is thick enough without it causing discomfort. The vibrations from the toy are phenomenally good. Plus, this is one of the few toys that aren't black. I can't recommend it enough. It's more on the expensive side but totally worth it. It's a bit slimmer than the Edge 2, so a bit better for beginners. It's main disadvantage is that the app isn't as good as Lovense's but unlike their toys, the Vector comes with a physical remote (which some people prefer).
Desire Luxury P Spot Vibrator by Lovehoney
The Desire P Spot Massager by Lovehoney was my favourite prostate massager for awhile. It is girthy, so not so suitable for beginners but for intermediate users this is a really pleasurable toy. The vibrations are strong, the patterns somewhat interesting and best of all, it's very affordable. If you think you can handle the extra girth, I recommend this P Spot Vibrator to anyone who is on a budget.
Update: This prostate toy has been out of stock for quite some time. I'm leaving it here for now because perhaps it will come back into Lovehoney's store again. There are other prostate toys in the Desire range you can consider too though 😉
Nexus Revo Stealth
The Revo Stealth is a more recent addition to my toy box. It isn't a whole lot different to the more thin Revo Slim that I began with, however it is more filling. The girth of this toy is very manageable. Like all prostate toys in the Revo range, the tip of it rotates and the body vibrates. Making it a very interesting prostate toy. My one criticism of it is that it isn't hook shaped enough for my liking so doesn't press my prostate quite as much as others.
Njoy Pure Wand – Best Manual P Spot Massager
The Njoy Pure Wand is my favourite manual prostate massager. It's made from pure stainless steel and slides in so easily. The big curvature that the toy has is perfect for stimulating the P Spot and I can bring myself to orgasm faster with this toy than with most vibrating prostate massagers. Don't assume that vibration = better because unless the toy you buy is top of the range, that won't be the case. I highly recommend you get an Njoy Pure Wand, whether you are a beginner or advanced user. The beauty of this P Spot toy is that it's suitable for everybody (even those who need a G Spot toy instead of a P Spot one).
Full Review Coming Soon | See Prices
Aneros Progasm, Eupho and Helix
Aneros is a brand famous for its prostate massagers. Most of them don't vibrate, so they are perfect for people who want to explore what their own muscles can do with a prostate toy. The added bonus of these Aneros manual prostate toys is that they don't cost nearly as much as the vibrating kinds I have been listing above. If you want an affordable and good prostate massager, considering Aneros is a great option for you.
My personal favourite is the Aneros Progasm, that thing is fucking amazing and I use it all the time. It's good for sex, it's good for masturbation, warming up for different toys etc. The plastic material it's made out of also means that it is easier to insert than other toys. Aneros describe the Progasm as an intermediate to advanced level toy but in my opinion it is suitable for beginners too if they take it slowly.
The Aneros Eupho Syn is another of the Aneros family prostate massagers that I tried! That one is smaller but definitely only for advanced users. You won't enjoy it if you're not advanced because it requires some experience to move it around properly with your muscles.
The Aneros Helix is a beginner level toy and is the one a lot of people prefer to start with. It's by no means only for beginners though, it's just that the size is very manageable and the shape doesn't require as much experience to manipulate as the Eupho does. Judging from the quality of the two others I have tried above, I'm confident this one is going to be great too. I recommend the plastic version rather than the silicone (syn) one because as I mentioned about the Progasm, the plastic slides in more easily.
Read Full Review of the Progasm Ice | See Prices for the Progasm
---
Best P Spot Massagers for Beginners
If you are a total beginner to prostate play then some of the prostate toys I listed above will be too big or powerful for you. I don't want you to buy a toy that will cause you pain or discomfort, so here is another list of toys that in my opinion are perfect for beginners to prostate play.
Nexus Revo Slim
The Nexus Revo slim is the first prostate toy that I ever owned. It is very similar to the Revo Stealth that I recommended above. The main difference with this toy is that it isn't as thick. Its slim profile means that the Nexus Revo Slim is one of the easiest vibrating prostate toys to insert. I don't use this toy any more because I don't find it thick enough to press all my buttons. As a beginner however, this toy was perfect.
Aneros Helix
Already mentioned above, the Aneros Helix is a non vibrating prostate massager. It is specifically designed for novices at prostate massage. Intermediate and advanced users can enjoy it as well but its main selling point is that it is easy for non-experts to use. This is the most affordable toy on this list.
We-Vibe Vector
I mentioned the Vector by We-Vibe above and hesitated to include it again here. It is certainly a more luxury prostate toy that can please even the most advanced users. It does have a slightly larger girth than the Nexus Revo Slim yet I think most people will be able to handle it without too much discomfort. It's one of my favourite P Spot Massagers, so if you can use it then go for it.
---
What do prostate orgasms feel like?
Some people don't know that they can orgasm purely from prostate stimulation. The build up is often slower and more subtle a feeling. Prostate stimulation feels like the tension that builds up behind your penis and testicles just before you orgasm. It isn't the same feeling as when you feel an orgasm building through the tip of your penis but it feels equally as good (if not better).
Prostate Orgasms are unique
How do you know when you achieve prostate orgasm? Trust me, you will know. These supernova level orgasms make me feel like my brain has spun backwards. Just like when you had your first ever orgasm, the feeling is unforgettable. Your first prostate orgasm may take a while to occur (see below) but you will know what it is when it happens.
Prostate orgasms feel unique when compared with the usual orgasms that you are used to. Even partial prostate climaxes (when you stimulate both your penis and prostate simultaneously) feel unique. The easiest way to discover a little about what a p spot orgasm feels like is to use a beginner's prostate toy and masturbate while using it. You will usually notice an extra sensation deep inside your body, right behind the groin. That is sort of what a prostate orgasm feels like. When you achieve a full prostate climax (without penis stimulation), the intensity of this sensation will be multiplied.
It may take a long time to achieve prostate orgasm
The truth is, it will probably take you a long time to be able to climax from prostate massage alone. Most of you aren't at all used to the sensation and by the time you try it, you have already taught your bodies what masturbation "should" feel like. So long as you're patient and use beginner toys / techniques, you will still find it pleasurable. It is likely that you will need to practice for quite some time before you have a true hands free orgasm however.
When you DO have a prostate orgasm, it will be worth the wait! Prostate orgasms are incredibly powerful and it is one of the main ways that you too can achieve multiple-orgasms. The build up of prostate climax is slower than with penis climax but the resulting orgasms are truly immense.
To jump straight to my guide to prostate massage, click here.
You don't need a full prostate orgasm to enjoy P Spot Massage
You don't have to have a full hands free prostate orgasm to enjoy prostate massage. Even if you masturbate your penis while using a prostate toy, the resulting orgasm will still be better. Orgasms while using prostate toys are best described as being two-fold. You have your usual intense feeling all along the penis and around your groin. The difference is that if you are stimulating your prostate then you will also get an intense sensation from deep inside your groin too.
So even if you find it difficult to have a full prostate orgasm, you will still enjoy prostate stimulation while you masturbate normally.
Should you touch your penis during a P Spot Massage?
I know how tempting it is to masturbate your penis while stimulating the prostate. To be honest that's what I end up doing most times I use a prostate massager. The temptation is too much! Just realise though that if you always finish by touching your penis during a P spot massage, you will likely never have a full hands free prostate orgasm.
The trick is to dedicate at least some masturbation sessions to prostate massage alone. It will sometimes be frustrating but eventually your patience will pay off with a huge orgasm.
Think about it another way. When most people first begin masturbating their penis, they don't realise that it can finish in orgasm. Many people began masturbating quite some time before they were first surprised by an orgasm. I remember my first climax like it was yesterday. It shocked the hell out of me but felt so damn good. That's a little bit what prostate massage is like. You should do it just to enjoy the journey until the day you arrive at full P spot orgasm.
---
Is Prostate Massage Messy?
You'll be forgiven for assuming that anal play can be messy. The truth is, if your bowels are empty and you have good hygiene then there shouldn't be anything to worry about. I don't recommend using anal douches because they can upset your butt and even cause infections.
What I always do is take a shower right before I practice prostate massage. That way, I never have problems. I also put down a used towel or used piece of clothing when I use a prostate toy, to deal with lube etc.
You'll probably feel like you're about to poop the first time you take out an anal toy like a prostate massager. Rest assured, while it does happen it is almost always just the toy coming out.
The well known prostate massager brand Aneros make many of their toys in white. That's because there is rarely a problem with 'mess'.
All that being said, when you take a prostate massager out you will sometimes notice a tiny bit of poop on it. It isn't a big deal. If you wear them during sex, just wait until you get to the bathroom to take it out if it bothers you that much. I keep some tissues near the bed while I'm using a prostate massager. That way I can take it out in my bedroom, wipe the lube etc off it and then have a relax before I get up to go clean it.
---
What if prostate massage causes bleeding or I find blood on my toy?
Alright, let's get a bit gross. This is about when prostate massage causing a small amount of bleeding.
It's possible that occasionally you'll find a little blood on your prostate toy or on your fingers. If you do that means you've gone too intense, too soon. I've had this happen to me numerous times because I like pushing my boundaries a lot with new toys and I can be heavy handed. The most common scenario is that I've gotten a toy that is slightly bigger than I'm used to and even though I enjoy playing with it, I notice a small amount of blood on the toy after I remove it.
I'm not a doctor and I can't give you medical advice, so if you're really worried go see a professional. Yet for me and in my case, seeing a small amount of blood on a prostate toy I used has never caused me any infection or lasting damage. I don't even get any pain afterwards when it happens. My feeling is that it isn't that much of a big deal. Whenever it happens, I just take it easy for a few days and don't do any further prostate massage.
If you're frequently noticing blood on your prostate toy or anal dildo, it probably means that the toy is too big / girthy for you. You'd be better off in that case buying a slightly smaller one to train with until you can handle the larger size. Don't be impatient because it's never any fun seeing blood.
Obviously if your bleeding is more substantial or you have significant pain, then you should always go consult a medical professional. I've never had any significant problems with prostate massage, so I'm not going to write about anything more than the minor bleeding I already described. All I'll say is, if it's hurting… you're doing it wrong.
---
Guide to Prostate Massage (my solo method)
This is my guide to prostate massage! If you follow the instructions here you may be able to achieve prostate orgasm. As I mention throughout though, it can take some time to get there. It took me an entire year to begin having them.
When I first bought a prostate massager, I wasn't quite sure what to expect. I hadn't tried stimulating the prostate with my fingers before so the feeling was new to me. At least a year went by before I actually achieved a full, hands-free prostate orgasm. Even before I achieved full prostate climax, I still totally enjoyed using p spot massagers.
Step 1 – Find a relaxing place to masturbate
The most important thing I can tell you is to be patient and practice relaxation. If you are in a rush or get frustrated easily then you will never succeed. I know some of you will roll your eyes at this but you really need to find ways to relax in order to achieve climax during P Spot massage.
A way of inspiring relaxation is to find a place to practice P Spot massage where you feel totally at ease. For me, that's my bed or my sofa. I lay out a towel wherever I am and then lie back on that while I have my fun.
Step 2 – Use deep breathing techniques
A technique I found that works very well is deep breathing. The kind of breathing people do during meditation. By breathing slowly and deeply, you can consciously force some areas of your body to release tension. It is a scientific fact that many meditation experts talk about. Deep breathing equals less tension.
If you already practice mindfulness or yoga then your discipline for these two activities may help you during prostate massage. I personally have never tried yoga but I used to use mindfulness meditation quite a lot in my everyday life. Mindfulness is a form of meditation. You don't have to use it in order to relax but it still helps a lot. Mindfulness and other forms of meditation help empty your mind, which is very good for any kind of massage (P Spot included).
Step 3 – Use a P Spot toy rather than fingers
Earlier on up this page, I listed my top rated P Spot Massagers. Those are the best prostate toys on this website and in my opinion they will help you with prostate massage.
Some people use their fingers to attempt prostate massage. If you too try that then make sure you thoroughly clean your hands first and trim your fingernails. If you don't then you may cause yourself injury or introduce infections. I don't actually recommend beginning with your fingers because toys are so much more helpful. There's nothing inherently wrong with using your fingers to do it but it requires more patience and care.
Above I talked a little more about what makes a good beginner prostate toy. Basically it should be more on the small and thin side. You can progress to bigger toys as you get used to anal play.
Step 4 – Don't just rely on the vibrations etc, use your anal muscles
Whenever you practice prostate massage, you should totally use your sphincter and anal muscles to contract around the toy you use and move it around. When you use your muscles, you train them to stimulate your prostate. I even enjoy contracting my muscles when I have nothing in my butt at all. Now that my body knows how to stimulate the prostate gland, I am able to stimulate it with my muscles alone. You'll know what I mean when you get there!
Vibrating and rotating prostate toys are great. They can add a lot of extra sensation to P Spot massage, so I recommend them. However, you shouldn't always use vibration to stimulate the prostate. It is important to use your muscles to stimulate the prostate.
Think of it the following way. If you only ever stimulated your penis using a vibrator, you'd be missing out right? It's the same with prostate massage. Part of the pleasure comes from discovering your unique P Spot map. Everybody is different, which is why you need to use your muscles to discover your own body.
Step 5 – Use short, rapid muscle contractions as well as long slow contractions
I think most people know how to contract their butt muscles and sphincter. When you use a prostate toy, contracting your muscles amplifies the sensation you'd usually get by tensing them.
Think about how a vibrator works. Most vibrators have several different modes. Some modes have constant vibration speeds and others have patterns. That is kind of how you should use your muscles to contract around your prostate toy. You should use your muscles to create patterns of contraction while you use the toy. This will help you stimulate the prostate and find a rhythm that works well for you.
You can even practice these contractions without a toy. As I mentioned above, it is possible to get a pleasurable sensation from contracting your anal muscles without any toy at all. It is possible however that you will need a toy to discover these sensations in the first place.
Step 6 – Don't touch your penis!
Yeah, yeah. I remember what I said above. I too lose myself to temptation and often masturbate my penis during prostate massage. However I still have sessions where I don't touch my penis at all.
I won't go into this in too much depth here because I already wrote earlier about it. Basically, if you always masturbate both your penis and prostate, you won't have a full P Spot climax. You'll only ever have a partial one.
Step 7 – Focus on the sensation rather than purely on fantasies
I think for many people, the idea of not using fantasies during masturbation is strange. I'm actually a big advocate of using fantasies during masturbation. During prostate massage it shouldn't hurt too much to use a little fantasy, yet you should try to focus more on the sensation of the massage itself. If you haven't had a full prostate climax before then your body will be unfamiliar with how it works.
You should attempt to clear your mind and focus on what it feels like to have something stimulating your prostate. Again, a little fantasy won't hurt. Just don't let your fantasy drive you into such an impatient frenzy that you practically have to masturbate your penis.
Step 8 – Try different positions
The first time I had a P Spot orgasm was when I was sitting back on some pillows with my legs apart. I think most people just lie down on their backs. If whatever position you use most regularly for P Spot massage doesn't work, then you should change things up.
It could be that sitting back partially, using a toy in doggy style etc could work better for your body. You could even try using the toy while in the shower or bath. I don't personally have a bath but would love to use one for prostate massage. As I already mentioned, relaxation important and taking a warm bath is certainly relaxing!
Step 9 – Don't just stop at the first P Spot Orgasm, go for multi-climax!
Prostate orgasm doesn't work in the same way as a penis orgasm does. If you have a P Spot climax, you can and should try to have more. Some prostate experts can have 10 or more orgasms all during one session. That's why it is such a sought after thing to learn prostate massage.
Some of your orgasms will be small and others large. Personally I can only achieve two or three prostate orgasms within one session. After that I begin to need a rest.
Step 10 – After your prostate climax, avoid masturbating normally
Again, your body needs to get used to a totally different form of masturbation here. It is best to avoid masturbating your penis directly after climaxing via the prostate. The after-glow of a P Spot climax is wonderful and you shouldn't steal the thunder with a penis masturbation session. Sure, I do masturbate my penis after sessions sometimes. The temptation is strong. Just know that it isn't advised.
Bonus tip – Use your mind, not porn during P Spot Massage
I don't believe porn is good for masturbation at the best of times. Here I recommend not using porn purely because it doesn't work well with prostate play. Browsing porn websites inspires a kind of frenzy. This frenzy can work for penis masturbation because you can masturbate the penis more aggressively than you can the prostate.
As I already mentioned, prostate massage is a slow build up. It requires patience, relaxation and time. You're better off without porn in this case because with it, you won't be able to relax as efficiently.
---
A Guide to Performing Prostate Massage on your Partner
So, you want to perform prostate massage on your partner. Maybe you want to give them a mind blowing, head spinning BJ with a volcanic eruption of an ejaculation? Well, I've got you covered in this guide. Follow these steps and you'll be on the right track to giving your boyfriend, husband or partner a good prostate massage.
Some of this partner guide reads a bit like an erotica I think. I didn't actually plan it that way but seeing I'm describing the way my girlfriend Eve gives me prostate massage in a lot of detail… well it gets a bit hot!
An important mention about relaxation during prostate massage
Before getting into this guide, I'll briefly mention something important for you to understand (particularly if you yourself don't have a prostate). Your goal as the person giving the prostate massage, is to get your partner to relax. If your partner isn't relaxing, you won't succeed. Prostate massage is different from giving a blowjob. You can do both at the same time if you want but to do a true prostate massage, you shouldn't try to send your partner into a frenzy. You still need to build up the erotic tension but do so slowly, not in the same way as you would right before sex or a blowjob. If you're into rough play during sex, this isn't the right time for it. For prostate massage, you need relaxation. Think deep breathing relaxation rather than high paced marathon style energy.
Even for partial prostate orgasms (ones where both the prostate and penis are masturbated simultaneously) you need to get your partner to relax. If you're going to do this for your partner (you're awesome for doing so by the way), then you really want them to be able to feel the prostate stimulation you're giving them. If you get your partner too excited or too frenzied, they're going to either start touching their own cock, jumping at you for sex or asking you to stimulate their penis. For prostate massage, that's not the ideal outcome.
Both you and your partner need to know that during prostate massage, the penis might go soft. It's totally normal and it's very common. Don't think you're doing a bad job if that happens because the likelihood is, you're doing great! Prostate massage can also take much longer to perform than a typical blowjob. For example when I was first starting out with prostate massage, even when I was by myself I'd often spend at least 45 minutes on it before getting my first orgasm. Prostate massage is partly a game of patience and both you and your partner need to understand, it might take some time and multiple attempts before it ends in a full P Spot orgasm.
A final thing on relaxation is the importance of hygiene. For both you and your partner to feel truly relaxed, a shower needs to be taken beforehand at the very minimum. If you don't give your partner time for this crucial step, they might not be comfortable enough to let you go through with the p spot massage.
Right, now that all that's understood… on to the guide!
Step 1 – Communicate with your partner about giving them a P Spot massage
Don't just spring it on your partner and start sticking your fingers down there without warning. For most people, prostate massage feels very pleasurable and even those without prostates get a small kick out of the tingling sensation of having their anus massaged. You CANNOT do it without warning though. If you do, you'll likely make your partner tense up or at worst, make them start laughing nervously (it's can tickle)… and that's never good.
Communicate with your partner in advance that you'd like to spice up things in the bedroom and try giving them a prostate massage. If they don't really know what a prostate massage is, they may not see the point in trying it. With that being the case, check out what I said further up in this article about prostate orgasms and use that as your selling point. It's pretty difficult to argue with bigger, better, multiple orgasms.
That being said, if your partner says no then you're going to have to put the idea to bed for a while. They may change their minds after they've thought on it further. Don't push it though. If they don't want it, then it won't be fun.
Step 2 – Talk to your partner about whether you will use your fingers or a prostate toy
For solo masturbation, I always recommend that people start with a prostate massager. That's because I personally found it more pleasurable to perform prostate massage on myself with a toy than I did with my own fingers. Using a toy is more comfortable and the best ones are well designed to hit the spot. There's not a lot of guesswork with a good toy like the Aneros Helix or Progasm.
I recommend that you encourage your partner to use a beginner prostate toy on themselves while they are alone before you yourself start joining them for prostate play. I put a good list of beginner toys further up this article.
Despite me recommending toys to people who are masturbating their own prostate, I recommend that you the partner use your fingers (under certain conditions). You absolutely must clean your hands and cut all of your fingernails as low as they will go. You likely know yourself already how undesirable it is to be fingered by someone with sharp nails. If you can't cut your nails low enough or you feel uncomfortable, just use one of the prostate toys I mentioned above and instead focus on massaging the outside of the anus and the taint with your fingers instead.
The reason I recommend that you use your fingers inside your partner's anus though is just the pure intimacy of it. Your partner might already know what it feels like to use a prostate toy but they won't know what it feels like to have the person they love doing it to them. Having someone else perform prostate massage feels fucking amazing. The first time my girlfriend Eve gave me a prostate massage, I had some of the most powerful orgasms I've ever had (more on that later).
It's sort of the same argument I'd give for why blowjobs feel better than having any penis toy used on me. If my girlfriend uses a penis toy on me, it's great but I know what to expect and I know that the stimulation is coming from the toy. If she gives me a good blowjob, she surprises me every second and just the intimate knowledge that she is literally giving me that sensation with her own hands and mouth will always give me a psychological overload. It's the same with prostate massage. Prostate toys are great if you want to use those but if you can use your fingers, the psychological effect you add to your partner's experience will likely be more intense.
As in the previous step, the most important thing is communication. Your partner needs to know what to expect so that they can relax and enjoy it. Decide all of this stuff in advance, not while you are in the middle of doing it. Decide if you'll use a toy, decide if you'll use a condom or glove on your hand and decide if you'll insert your fingers or only touch the outside of the anus.
Step 3 – Actually massage your partner's body first
Alright, now I'm turning to my girlfriend Eve's method more than my own. Her approach was based on my guidance though, so I feel qualified to be the one telling you 😉
The first time Eve ever gave me a prostate massage, it was when she was giving me an erotic massage. You hopefully know the kind I mean. It's like a full body massage but you're both naked, covered in scented oil and you're both quivering with excitement for the sex that will follow.
Eve started by massaging my body like she would with any other massage. She blindfolded me with a silk scarf to make sure I was teased even more during that first part of the massage. As she massaged me, she added the oil to her own breasts and started rubbing them over my body, as she does with other sex acts like oral. It drives me crazy. We're a hetero couple but if both you and your partner this could work for you too. Just use your penis instead of breasts.
Eve massaged my upper body first and worked her way down towards my dick, which she had been enjoying watch get rock hard since the massage had started. She completely ignored my penis for the time being and made her way down my legs. On her way back up my body, she started brushing her fingers over my taint (the small bridge of skin between the anus and scrotum). These were very brief strokes and I appreciated that because it gave me time to process what it feels like to have her touch me down there.
She continued massaging me and rubbing her breasts all over my body, leaning down on my erect cock and generally just teasing the living fuck out of me.
Whoa… getting a bit steamy at step 3 aren't we? Let's move on.
In all seriousness, this might be as far as you get the first time you try to give your partner a prostate massage. I'm a sex toy reviewer and blogger, so I'm already very used to the sensation of having stimulation to my prostate. For other people who aren't used to it, they may need more time to process it. Just give them as much time as they need, until they're practically begging you to go further.
Step 4 – Start focussing more on 'the taint'
When your partner is used to having their taint / perineum touched, you can begin focussing more on that area. Trust me, it's intensely pleasurable for us to have that area stroked and pressed (just like I imagine it is for you). Because of how sensitive that area is, it requires habituation that's all.
Eve didn't stop during the first prostate massage she gave me, she took of my blindfold and started kissing my cock and licking the shaft. Then she moved her hand over my thigh, towards my taint and started pressing down on it slightly and rotating her fingers before moving them a few centimetres and doing the same thing again. It felt amazing. She was kissing my cock and licking it to tease me all the while, however she didn't grab it with her hand. That's actually quite important initially because if you just grab your partner's dick straight away, they'll focus on that instead of the prostate massage you're giving them.
Step 5 – Bring in the lube and rub the anus directly
Before you start massaging the anus directly, it's a good idea to put some lube on your fingers. The anus obviously doesn't self lubricate and while you can massage it without lube, it will feel better with lube and also, you need to prepare your partner for a finger-fuck or toy. Even if your partner lubed up before hand, it's always good to add more.
Eve had a pot of S Liquid Sassy on the night stand (it's my favourite anal lube). She reached for that, pulled my scrotum up and started drizzling the lube down my taint. Then she poured some into her hand and started rubbing my taint, making her way down to my anus where the lube she poured had already passed. With her other free hand, she parted my butt a little bit to make it easier for her. She spend quite a long time running her fingers in circles around my anus and putting pressure on it. All the while she was using her thumb to rub and put pressure on my taint, just below my scrotum.
What I liked about this first time that Eve worked on me is that she kept her gaze mostly on my body and up at my face. I'd talked to her about that beforehand and told her I'd probably feel more comfortable if she didn't stare directly at my ass the whole time. She would glance back and forth to make sure she was doing ok and that she was in the right spot. But she spent a lot of these first moments kissing my torso, nipples and penis. It felt great and I was so relaxed.
As time went by she increased the pressure she was putting on my anus and because she had made me so relaxed, her finger was already partially entering when she would push down on it.
Step 6 – Press your fingers in and find the prostate
"Step 6 and still no prostate stimulation?!" I can hear you dear reader, I can hear you. Don't worry, the moment has almost arrived.
Now that your partner is completely relaxed and their sphincter is not tense, you can push your fingers inside their body. Make sure you put on more lube before that step because even if you've been rubbing lube into the outside of their ass, it's unlikely that much will have made it inside. You might actually need to reapply lube to your fingers 2 – 3 times in order to lubricate your partner's butt sufficiently before you can move around in there freely enough.
You don't need to reach in very far to your partner's butt to locate the prostate. In my opinion, the P spot is easier to find than the G spot. The P spot is located on the upper wall of your partner so your fingers should be facing towards their stomach (not their back). A couple of inches in, you will feel a small bump. No larger than a ping pong ball. If you didn't already see my map earlier on in this article on where to find the p spot, you can take a look at that for a visual guide. The P spot shouldn't be any deeper than the length of your index or middle finger.
If your partner hasn't had a prostate massage before or hasn't even done it to themselves before, it'll be more challenging for them to tell you that you hit the right spot. They'll probably sense when you're in the right place though. Having the prostate pressed slightly feels a little like what the muscles do in the build up towards ejaculation. It usually feels good to be pressed there, so if your partner is saying it feels good when you press the bump you found a couple of inches in, you probably hit the P spot!
Step 7 – Massage the P Spot
"Yes finally this motherfucker is telling me what I came to read!" – I know, dear reader… but don't just skip straight to step 7. Do you want to give your partner a heart attack? Make sure you've read and understood the rest before you got here. Your partner may take several sessions to actually allow you to get this far.
When you massage the prostate of your partner, simple is better. Don't try anything too crazy the first time. I'll tell you what Eve did, because it was pretty effective and that's what she does most of the time now.
Eve didn't need to lube me up too much, because I had already done so before she had started with a silicone based lube called Uberlube. It lasts longer than the water-based ones (such as S Liquid that I already mentioned). There was no reason to use two different lubes… it just happened that way. Eve's fingers slid inside me very easily and it didn't take her long to find my P spot. When she pressed in the right place, I told her she'd found it.
After Eve knew she found it, she started pressing the spot repeatedly. I'd already told her not to use much pressure, so she just gently put pressure on it over and over. She started out pressing it slowly, then as time went by she would add in rapid movements. She already knew from me that it wasn't necessary to speed up as intensely as she would during a BJ. She did as I'd recommended and mixed slow pushes of her finger with rapid ones breaking it up. I told her that thinking of a song in her head could work well and that pressing her fingers to the rhythm of the lyrics would add enough random motion without making the massage chaotic. It worked really well and felt great.
Eve noticed that at this point, my penis had gone soft. I had already told her to expect it so neither me or her felt bad about it. In fact she licked it from time to time and sucked on it, which was a great additional stimulation. She didn't do it so much that I got hard and wanted more though, I'd already warned her against that.
Eve started experimenting a little after doing the rhythmic pressing for a while. She would press her fingers in one spot and rotate them on the spot slightly. That felt great too, a bit like the slower stimulation I described above. Another thing she tried was rapidly tapping her fingers up and down on the P spot. That felt AMAZING, which surprised me actually because I had assumed it would be unpleasant. She didn't do it for too long or too frequently though which I appreciated. The only thing Eve did that didn't work as well was push her fingers a bit too far up past my prostate. It didn't feel bad necessarily but I preferred her to stay on and directly around the P spot.
Another technique that Eve has started using is flicking her finger side to side over the prostate bump. That feels great too. She didn't do it the first time but I think you could.
Step 8 – Give your partner commands
Massaging the P spot is great and all, though like I mentioned before… it may be a really long time before you can give them a full P spot orgasm. Eve didn't give me a full orgasm the first time she did it to me. We both knew that probably wouldn't happen so weren't too bothered by it. That first time she kept massaging my prostate and after about 20 minutes she started giving me a blowjob (while keeping stimulation on my prostate) and that gave me a massive orgasm.
Anyway, back to the point. The first time Eve managed to actually give me a full P spot massage was when she began giving me commands. It's something I hadn't really thought of, so tip of the hat to Eve for this particular technique. Eve had noticed that I would tense my muscles around her fingers sometimes. That's because I had already performed prostate masturbation on myself for years and I was just replicating a little of what I do during solo masturbation. I wouldn't do it too much initially when with Eve because I was worried that me tensing up around her would squeeze her fingers too much.
One evening, while doing a prostate massage Eve started saying to me "now, tense around my fingers" as she was pressing up on my prostate. I did as she said and it felt great. She started smiling and knew she was on to something. "Do it again", so I did. Then she started ordering me to suck on her tits, started kissing me deeply. She would keep telling me to tense my muscles periodically. All the while she was continuing to press my p spot and rub it in the ways she had before.
All of a sudden, I started groaning and tensed up around Eve's hand. Cum started spilling out of my cock even though it was soft (though it wouldn't be for long). As I recovered from the intense orgasm, I looked up at Eve and she was looking down at my body grinning to herself. She knew she'd finally done it and she was really, really fucking proud of herself (and rightfully so). She'd milked my prostate finally.
As I'd told her before that multiple orgasms are possible, Eve wasn't content to leave it just at the first orgasm. She continued massaging my prostate started rubbing my chest with her other hand again. About 5 minutes later, while she was also rubbing her own clit, I came again. Two times in a row.
Step 9 – If you can't succeed after 20 – 30mins, go for a simultaneous blowjob
Usually for solo prostate massage, I recommend that people try not to touch their penis. If they always end up touching their penis, they'll never get it right. For partner prostate massage though, it's a bit sad to leave things unfinished in my opinion… so if you feel like it isn't going to happen this time around, go for a simultaneous blowjob because that will still feel like a plus plus orgasm!
As I mentioned above, Eve didn't give me a full P spot orgasm the first few times she tried. Each time she would try for 20 to 30 minutes and if it didn't look like it was happening, she would begin giving me a blowjob. Every prostate blowjob she gave me felt fucking amazing. So don't feel like you'll not be giving anything extra by making them orgasm with a blowjob at the same time. It's to be expected that will be needed at first.
When they orgasm from the blowjob, don't stop pressing the P spot. Keep your fingers pressed down (or up) on it. While they are orgasming, their muscles will be clenching repeatedly and if your fingers are still pressed on the prostate, that will make their orgasm feel insanely powerful. You can press on it repeatedly during the orgasm if you want but don't go too fast. You really want them to feel that big pressure in their prostate while they come, that's what will make the orgasm powerful.
Step 10 – Think of other ways to do prostate play
After you have been doing the whole prostate massage thing I've been describing above enough times, it will likely start to feel a bit slow. So if you need a break from that slo-mo massage style stimulation don't be afraid to suggest trying other things. There are other kinds of stimulation you give to your partner's prostate can be good.
Remote control prostate play
If you get a remote control toy like the Edge 2 or Vector (listed above), those can make great public play and remote control scenarios. If you tease your partner with one of those for long enough, the sex you have afterwards will be explosive.
Wearing prostate massagers during sex
Another great and very simple way to do prostate play is for your partner to wear a plug or prostate massager while they fuck you. Some prostate massagers even have cock rings attached to them to aid with that. Like I already mentioned numerous times through this article, having prostate stimulation while the penis is stimulated feels amazing.
Pegging
Some couples are into pegging. You don't need to be bi or anything to enjoy that role reversal. If you and your partner are up for it, you should buy a strap on harness and fuck them with a narrow curved dildo designed for prostate anal sex. Eve and I aren't into pegging so much but for couples who are, this could be a great thing to your bedroom games.
Follow Adam Rouge: