In this review of the Lovense Edge 2, I explore a powerful prostate massager with all of the killer functionality I've come to expect from Lovense. I've tested a lot of prostate massagers to date… and this one might be the new king of them all.
The Edge 2 prostate vibrator was sent to me for free by Lovense in exchange for an honest review. This page may contain affiliate links. If you use the links it helps me support this website, which I really appreciate!
Table Of Contents
– Table of contents (click) –
First Impressions of the Edge 2
The Lovense Edge 2 is a high end prostate massager / vibrator. It has all of the smart functionality you'd expect from a sex toy in this category. It packs so much more than you'd expect though, which we'll get to later. This is no simple prostate toy.
Now, before I start singing its praises let's get one thing straight. This toy is not going to win a beauty competition. The Lovense Edge 2 is black. Black is a really shitty colour for a silicone sex toy. Dust sticks to it, lube sticks to it and because its black, all of that muck is highly visible. Black silicone = ugly. The Lovense Edge has those weird bulging bits on it too. They feel really good but let's face it, they look a bit ugly. I'll turn your attention at this point to my scoring on the right. Yes that's right 9.8 /10. You'll find out why as we progress.
Some of the Edge 2's smart capabilities:
It connects to an app (Android / iOS).
You can create your own vibration patterns (it can store up to 10).
You can sync it to music on your device (including Spotify and actual MP3 files).
You can sync it to music through the microphone on your device.
You can get someone else to remote control it from the other side of the world (if you wish).
The Edge prostate massager is 100% waterproof so you can use it pretty much wherever you please. I tested it in the bath once and it is still alive, more about that experience later. It's a good thing that the Edge 2 is waterproof because dust sticks to it so rapidly that I got tired of cleaning it off and just drenched it in water for my photo shoot here.
The Edge 2 is also moderately chunky as far as prostate massagers go. I REALLY appreciate that, because I prefer these toys to be a little on the thicker side, it makes my muscles do less work and it usually ensures that the toy hits the right spot. If you are a beginner, you may want to start with a slightly smaller/thinner toy. The Edge 2's size won't necessarily hurt a beginner but you might simply feel more confident if you start out with something smaller.
Throughout my review of the Edge by Lovehonse I was consistently really impressed by its vibrations. The vibrations it emits are rumbly, powerful and penetrating. There is no messing around with this toy, it really has what it takes to shake up your world.
The battery life of the Edge 2 is pretty awesome as well. I didn't charge it once while testing and I've used it loads. Normally the battery life should last 1 hour 40 minutes, though I feel I've gotten more out of it than that. It takes 1 hour 40 minutes to charge.
The Edge 2 comes with a charging cable and also a storage pouch to keep it out of dust etc.
Now let's get on to my actual experiences with it…
Experience with the Lovense Edge 2
While preparing to use the Lovense Edge I had to relax myself quite a bit because it had been some time since I had last used a prostate toy that big. The size of the Lovense Edge is comparable with the Lovehoney Desire P-Spot toy I tested and loved in the past. Even though I took the time to prepare for the Edge 2, I needn't have worried because it slipped in very comfortably.
Adjustability of the Edge 2's neck
The Lovense Edge 2 has an adjustable neck, meaning you can control the curvature / angle of the insertable portion of the toy. I prefer prostate toys to point a little more towards my prostate, because I like that extra intensity. Beginners who find that too much can straighten out the toy to get a more indirect stimulation. I really love this adjustable aspect to the toy, it helps everybody enjoy it. The neck is still fairly stiff though, which I appreciated because there is less chance of it moving out of place during use.
The vibration strength and pleasure
Every vibration mode is intense enough to make me climax, every single one. All of them are well balanced enough not to over-stimulate me but DAMN this thing is powerful. I like the constant modes and the patterns but if I have to pick a favourite from the default vibe modes, it is the very last mode of the toy (a pattern called Earthquake).
I personally last about 20 minutes before climaxing with the Lovense Edge on the default modes. I'm quite experienced with prostate toys so it could take you longer. You may also need to masturbate your penis at the same time. It doesn't matter whether you go full prostate orgasm or partial (with penis masturbation)… your orgasm with this thing will be huge.
Whenever I climax with the Lovense Edge, my cock goes into overdrive while I orgasm. I just can't stop ejaculating when this thing is in. It's crazy. Every single time. That's how good it feels to orgasm with this thing in.
In the Bath with the Edge 2
I mentioned at the start of this review that I had tested the Edge 2 while in the bath too. I don't usually do this, because I don't like the sound vibrators make while in a big metal bathtub underwater. Nevertheless, I decided to give this toy a go in the bath, it is a good place to get relaxed after all.
First for the positives. The Edge 2 certainly is waterproof. It can function in water just fine and not get damaged. If you pair it with a waterproof phone like the iPhone 12 to control it, the experience is even more complete.
Like every other time I've used a toy in the bath tub though, I was disturbed by the noise that the vibrator was making in the tub. It's pretty normal for vibrators in the bath though. The Edge 2 isn't a loud toy but putting it in a metal tub full of water just amplifies things a bit too much for me to relax completely.
I didn't use the Edge 2 in the shower and you want to know why? Because it's too damn good. I've sometimes been standing when climaxing with the Edge inside me. The orgasms are so powerful that often I have to support my weight on something as soon as I get my orgasm. I'm afraid that may translate to me falling over if stood in a slippery bathtub to begin with!
Lovense app developers are crazy
Lovense is fucking nuts and I mean that in a good way. These crazy bastards have given me the ability to stick the Edge 2 in my ass, go to sleep and then have the alarm they put in the app wake me up. I don't know who the hell came up with that idea but I want to shake that person's hand for the sheer madness of having an alarm clock function in their sex toy. The Max 2 also does this, as well as a lot of their other remote control / smart toys.
Sync the Edge 2 to music
The other seemingly random thing Lovense did with their app is give you the ability to sync your toy to music. Yep, like the Lovense Max 2, the Lovense Edge will sync to music. Imagine that! Put some Metallica on, stick it up your ass and go crazy. This thing is a beast. The music sync isn't exact but come on… that's a good fucking effort. You can sync it to MP3s on your device, Spotify and if you're too damn lazy to do that, you can just switch your device's mic on and let it sync via that to an external speaker. Hell you could even go to a festival with this and sync it to the show. Don't do that… or at least don't tell anyone I told you to.
By the way, the App you need to use to do all this is the same one as you'd use for the Max 2, it's called Lovense Connect and is available on iOS and Android.
There are many toys that sync to porn and while that's great and everything, you can't use them with all porn (you need special scripts). The Edge 2 can't sync to porn but it can sync to ALL music, just like the Max 2 and Nora 2 can. If you haven't tried syncing your Lovense toys to music and enjoying the ride then you're missing out.
Especially for a prostate massager, music helps a lot if you're trying to achieve full prostate orgasm. Some people find not touching their penis a bit boring, so they never let the prostate massager bring them to climax on its own. I can totally understand. Having a full prostate orgasm requires patience and relaxation. Music helps a lot because so long as it's music you like and it isn't too extreme, you'll have something to guide you along for the ride.
I personally put a playlist of Daft Punk on when I first synced the Edge 2 with music. I didn't last long…
If you use porn, you can even enjoy the music sync thing with that. Because the Edge 2 detects rising volumes, you can probably expect it to react to people moaning louder in the videos etc. To be honest though, I'd be tempted to just throw on a music playlist and have that going on while you watch. Massive orgasms are to be had.
Accuracy when syncing to music
The Edge 2 isn't SUPER accurate when you sync it with music. It can detect loud rhythms and large variations in volume. Don't expect anything too crazy though. It won't hit every drum beat or follow along to the rhythm of a singers voice exactly. The music sync doesn't have to be exact though, it's mostly a novelty (and a nice one at that).
Within the music sync settings it has an option for sensitivity. Playing with that can get you closer or further away from the rhythm in whatever music you're playing.
The Edge 2 syncs close enough to music to make the experience worthwhile and interesting. It's a new way to use sex toys.
Video of demo of Edge 2 music sync
Here is a video of the Edge 2 syncing to music through my tablet. The music sync part is just after the unboxing. The classical music is kind of a joke but it's the only music quiet enough I could find and still hear the vibrations on the video 😉
Long Distance Remote Control with the Edge 2
Are you the kind of person that wants someone on the other side of the World to control a vibrator in your ass? Well I have good news for you my lucky friend, the Lovense Edge 2 can help you out with that.
To get someone to control your ass, you need to download the Lovense Connect app and then from there you generate a link / QR code thing that you send to them. It works really well, unlike the We-Vibe app that gets a lot of complaints for this kind of thing. I haven't tried the We-Vibe app recently but during my review of the Vector two years ago, the app was giving me trouble. I've never had an issue with the Lovense stuff, so for me it wins in this area.
I'm a sex blogger and toy tester, so I see some shit that others don't see online. Not a day goes by on Twitter, Reddit etc where I don't see horny motherfuckers with Lovense toys sending out their remote control links for random people to get them off from the other side of the globe. It sounds fun to be honest but I like controlling my own ass, thank you very much. If you want someone else to control a vibrator in your ass though, go buy the Edge 2.
Partner Play with the Lovense Edge 2
One important test for any prostate toy I use is how it feels and stays in place during sex. A badly designed prostate toy might fall out or not stay in place. Others you might not feel so much. Here again, the Lovense Edge 2 does very well for me. Even with me moving around a lot during sex, the Edge stays inside me. I do sometimes have to give it a little push to secure it more but overall it stays in place well.
Actually, while I was doing this review of the Lovense Edge 2, a delivery guy came to my building to give me something. I had to quickly turn the toy off and run down four floors with it still inside me. It didn't fall out and that's a pretty difficult test to put a prostate toy through!
Now the Edge 2 does have a good smartphone app, however I don't like having my smart phone anywhere near me during sex. I like having to unlock my smartphone to use it even less. So basically… I ain't using no smartphone app during sex. It's a pity because even though the Lovense Remote app works really well, I'm not really using it during sex. It would be better really if Lovense were to add a physical remote to the Edge 2, as We-Vibe did with the Vector that I reviewed 2 years ago.
Lots of cum
And you remember what I said about the Edge sending my cock into overdrive? Damn Eve loves this thing when I climax. She knows whenever I wear this that she is going to get ahem… filled a lot. The first time I tried it with her during sex she was pretty shocked by the quantity of cum pouring out of her afterwards. The amount I come with the Edge in also makes boob jobs and even simple handjobs extra exciting for her. The Edge 2 makes me ejaculate like a fountain… there you go. Not a pretty picture but that's what it does damn it.
Thanks to its app's remote control capablities, your partner will still be able to remote control the Edge 2 to bring you to a delicious prostate climax, even if they are on the other side of the world. If you're physically together but would prefer your partner to remote control the toy than touch it while it is inside you, that's a nice option the Edge 2 gives you. You can really get creative with the app capabilities of this toy. Like the Max 2, it even has an alarm clock function where it will start running at a predefined time. Mad but fun.
The vibrations are fairly strong and Eve tells me she can feel a hint of them (if I have it in while we have sex). However it's just that, a hint. She doesn't feel enough of the toy to say it stimulates her but she loves how hard I am while I've got it in.
Overall, this is an amazing prostate massager to use while with a partner. There are so many ways that a couple can enjoy using it together. I haven't tried a better one for partner use.
Cleaning the Edge Prostate Massager
Cleaning prostate toys, or any sex toy for that matter, is always the least fun bit. The Lovense Edge is very easy to clean due to it being 100% waterproof. Just clean it off under warm water and sterilise it with soap and sex toy cleaner. It dries fairly quickly and has its own pouch, which will help keep the dust away.
It is made of black silicone however, so some dust is inevitable. If there's one thing I wish was different about the Lovense Edge, it's the colour.
What is even worse is that the Edge 2's silicone is grippy. It holds onto everything. Even with water-based lube I have to scrub the hell out this toy to get the silicone looking matte again. To be fair, I often just want the toy clean and can't be bothered to make it perfect every time. What I'm saying is that the Edge 2 looks dusty and shiny almost all the time.. not idea but I can live with that.
Conclusion on Lovense Edge 2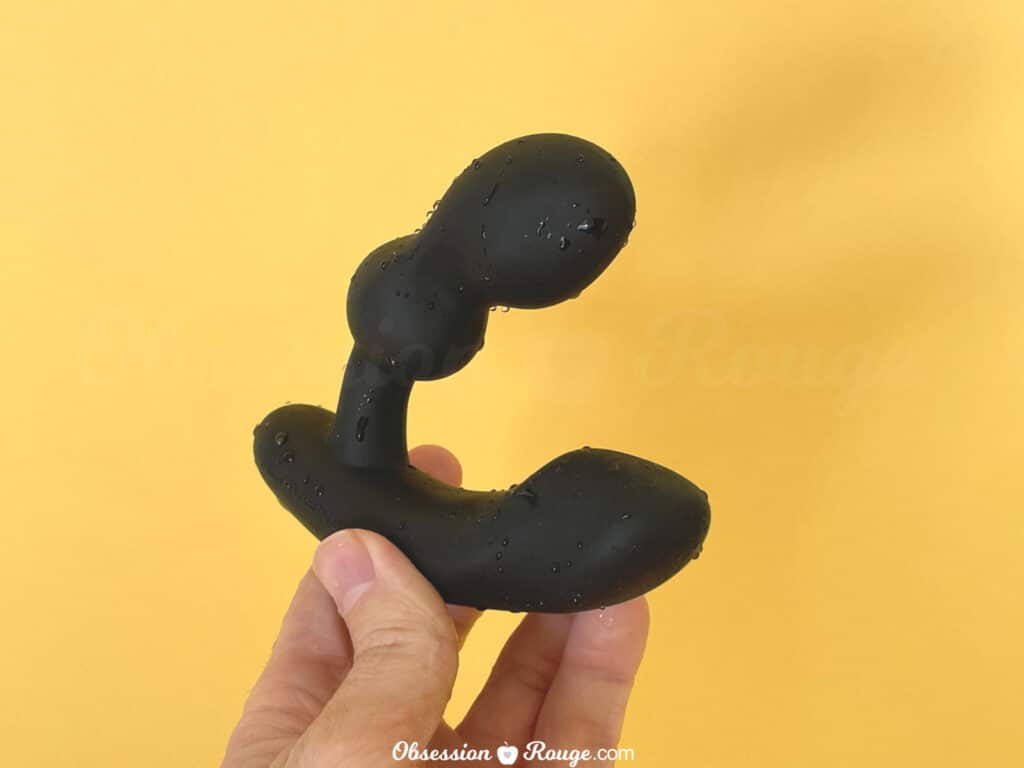 Yeah you know what, I'm going to say it. The Lovense Edge 2 is my new favourite prostate toy. It beats even the We-Vibe Vector, which was my favourite prostate toy for several years until now. The reason I prefer the Lovense Edge is because it is just that little bit more chunky and because that capability to sync to music is just SO much fun.
I was seriously impressed with the amount of pleasure that the Edge 2 delivers. The vibrations are powerful, deep and it has never failed to give me an amazing and explosive orgasm. Where other prostate toys have failed, the Lovense Edge has succeeded. The designers of the toy did a really fine job with it.
The reason you might want to buy this toy rather than the We Vibe Vector (its main competitor) is that the Edge 2 is slightly more powerful, presses on the prostate more because of its size and the app works better. However if you prefer using a physical remote during sex like me and you mainly want this toy for sex, go for the Vector instead. The colour and style of the Vector are also more charming than that of the Edge 2. To be honest though, these are sex toys. Some people care about that and others don't.
The only thing I would wish for with future versions of the toy is that the colour could be different and that the silicone surface could be more rigid. Black is an ugly colour for silicone sex toys. Dust shows up on it far too easily and lube also sticks to the Edge too stubbornly. I'd really like to see a blue or green Edge in the future. For the surface rigidity comment, it's just so that the lube and dust doesn't cling so much to it. If Lovense improves the colour and grippiness of the silicone, it will get 10/10 next time.
Thanks again Lovense for sending me the Edge prostate massager to test!
You can find out the latest price of the Edge 2 by clicking here. Below I only have the price at the time I wrote this (I often don't update it as quickly as retailers change it). God damn, why are you even still here?! You should be buying this toy right about now!! I appreciate your readership and everything but damn… this toy is good, go and get it. Then come back here and let me tell you about more sex toys.
Prefer a penis toy? Check out the Max 2 at Lovense's store and my review here.
Something a little more phallic? Try the Nora 2 (again by Lovense).
All of these toys have the same smart capabilities as the Edge 2.
Lovense Edge 2
Score: 9.8 / 10
Reviewer: Adam Rouge
Prices
These prices may be very slightly different by the time you visit the shop. This is just to give you an idea of the cost 😉
The button above and below the price table will send you to the correct shop for your country!
Prices last updated on: 21/04/2021
| | | |
| --- | --- | --- |
| | United States | $119 |
| | Europe | €109 |
| | United Kingdom | About £95 (converted from Euros) |
| | France | €109 |
Follow Adam Rouge: