After hearing about the silicone masturbators of Bad Dragon, I just had to get my hands on some to test them. I chose to get the masturbators "Twitch" and "David's Muzzle". These masturbators are made of soft premium silicone and have designs that look like they were inspired straight from a Fantasy story. So very intriguing but as always, the question is… are these toys any good? I put them to the test so read on for my review of the Bad Dragon Masturbators "Twitch" and "David's Muzzle".
Both of these masturbators was sent to me for free by Bad Dragon in return for an honest review on them. This page may contain affiliate links and if you use them it doesn't change the cost but you're support this website.
– Table of contents (click) –

Jump to
First Impressions of the Bad Dragon Masturbators
My first word upon opening the box of Bad Dragon masturbators and looking at the toys inside was "wow". My girlfriend Eve on the other hand said "Ah putain, celui-là a une grande gueule" (translation – oh shit, that one has a big snout). Apparently my French companion is a little scared of toys inspired by dragons. I however LOVE these designs. Dragon shaped masturbators… how amazing is that?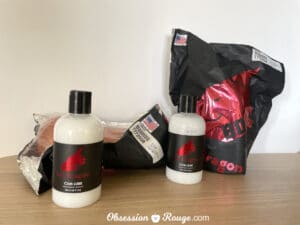 Both of the Bad Dragon masturbators I have are pretty damn heavy for masturbators. This company doesn't fuck around with their silicone. The amount of silicone they've used in these toys is impressive and when I pick them up, the weight of the toy tells me that they are premium. The David's Muzzle masturbator is the heaviest of the two because it's very wide and has all that detailed sculpting for the mouth / nose etc. So I can't stress that enough, these toys are dense in silicone. The silicone itself is quite soft but we'll see how that density plays out later on in the review.
Length
Both toys are 8 inches long, and I'd say any penis up to 7.5 inches is fine for these toys if you want to be completely inside them. Longer penises could go in them too of course but part of your penis would be outside the entrance (the back hole is too small for a long penis to go through though).
Diameter / Circumference
It's worth me saying at this point that both of these masturbators I have from Bad Dragon aren't fully compatible with my penis size. I mention that mostly for you to keep this in mind as we progress through the rest of the review. For those with an average penis circumference (4 – 5 inches around), these two masturbators are a good size. For those with 6 inches circumference and above, these two masturbators are too tight.
There aren't really reliable diameters/circumferences I can give for these masturbators. Bad Dragon has size charts for each of their masturbators that list the circumference of the shafts inside the toys but from my experience, these aren't a clear indication of what diameter penises can go inside. I believe their size charts list the largest internal circumference rather than the smallest circumference.
For example, the shaft of the masturbator David's Muzzle is listed with a circumference of 11.75 inches but that must only be the widest point because there's one part of that toy that I don't fit through… and I'm 6.3 inches in circumference. It's a similar confusion for the masturbator Twitch, which is listed as having a 8.5 inch circumference shaft. Despite the circumference of the Twitch being listed as smaller than David's Muzzle… I find that toy less tight.
So in my opinion some more clarity is needed in those listings. I believe Bad Dragon is listing the widest circumferences inside their masturbator shafts but they should also list the smallest circumference for people like me who are thicker than average.
Experience with the Bad Dragon Twitch
Let's start out with my favourite Bad Dragon masturbator, the Twitch. The texture inside that one is what made me ask for it in the first place. I've liked textures like this ever since I tried the Mini Lotus by Fleshlight years ago.
The first time I used the Bad Dragon Twitch, I tried to use it without a condom despite being a bit concerned about the internal diameter. I was actually able to use it without a condom for a while (just used a lot of lube)… however it didn't take too long for the tightness of the toy to cause my foreskin some discomfort. So pretty soon after starting, I grabbed a condom. Again, this is only necessary because I'm quite large in diameter… using condoms helps me use toys that are too small for me because they allow me to continue without my skin being pulled too much.
With the condom on… using the Twitch was a different story. Wow this toy feels good. The silicone density of the toy is a double edged sword. On one hand it means the shaft doesn't stretch much when my penis goes through but on the other… it means those ripples and waves inside the texture of the toy squeeze me in a unique way. It's as though someone was using their finger to stroke my penis and varying the pressure they use at the same time.
The sensation from the Bad Dragon Twitch is quite unlike the Mini Lotus sleeve I mentioned, however it's good in its own way. Although the Twitch has the 'chambers' that I liked so much in the Mini Lotus, the chambers in this toy give me a feeling of my penis being squeezed rather than it entering through different passages.
The air hole at the back of the Twitch adds to the experience because by covering that, I can create a small amount of suction inside the toy. It isn't as much suction as I get with the Ussy (another silicone toy) but the Twitch is also a very different style masturbator. Unlike the Ussy, the Twitch has been designed with texture in mind and the Ussy has favoured smooth silicone in favour of suction.
I have to say, I really enjoy the Twitch. I regret the fact that it isn't just a little bit wider inside because obviously… I'm using a condom with this masturbator to be able to fit into it. Unlike some of the other tight toys I've used though, the Twitch's texture and quality make up for the fact that I have to use a condom with it. If I could recommend anything with this toy, it's simply that I wish it was available with a wider circumference.
Experience with the Bad Dragon David's Muzzle
The initial bit of the David's Muzzle masturbator is quite loose, so when I first started playing with it I was thinking "oh great, this one is loose"! However, it's only the initial mouth portion of the toy that feels loose. Partway into the toy it gets much tighter. For someone 4 – 5 inches in circumference, this toy would feel great but because I'm over 6 inches around… it's a different story for me.
I regret to say that I couldn't enjoy the Bad Dragon David's Muzzle as much as I wanted to. Unlike the Twitch, I can't use this one because it's just too tight. Even when I wear a condom, the density of the toy's silicone squeezes my penis too much. There is a point midway into the toy that I can't get through.
I'll leave my comments there for the Bad Dragon David's Muzzle, it's just not suitable for my size unfortunately.
Cleaning the Bad Dragon Masturbators
Seeing as these masturbators are made entirely from silicone, it's very easy to clean them. You just wash them with soap and water, then leave them to dry on the side. Depending on the internal diameter and the pattern inside your Bad Dragon Masturbator will determine how long they take to dry. The two I have don't take very long though and because they're made of silicone.. I don't have to worry about them going bad. Silicone is a non-porous material so lasts far longer than other materials.
In conclusion of my review of the Bad Dragon Masturbators Twitch and David's Muzzle
Well, my curiosity has been satisfied with regards to Bad Dragon! Their masturbators are good quality, I love the dragon designs and appreciate the fact that they're made entirely out of premium quality silicone. What I regret is that there has been some misunderstanding with the circumference and diameter of the toys. For most people this won't be an issue but for those with large circumference penises… it's always a bit disappointing when toys are too tight.
Of the two Bad Dragon masturbators I have, the Twitch is obviously my favourite. I think it would have been my favourite even if the David's Muzzle sleeve wasn't as tight as it is. I fully recommend the Twitch to anyone with a penis below 6 inches in circumference. For me, the Twitch is pleasurable but because of my size, it's only good when I use a condom.
If you are interested in buying a Bad Dragon masturbator but you have a large girth penis (6+ inches), I recommend that you speak to the company first and make sure that the toy you are buying is suitable for your size. I will be recommending to the company that they start listing the smallest internal diameter of their toys. The masturbators are such high quality that it would be a shame to disappoint somebody who bought a toy that is too tight for them.
As for my scoring… if I had a smaller circumference penis, I would have been rating these higher. Because I couldn't really test the David's Muzzle masturbator that much, the score I have given is mostly for the Twitch. Although I'm putting some objectivity into all of my reviews, it's still impossible for me to completely ignore my own personal experience. To my readers, I have to make the rare recommendation that you pay more attention to what I've said in this review rather than what score I've given.
If you are 6 inches in circumference and above – these toys aren't for you. If you're 5.5 inches in circumference or below (which is apparently the majority of people), you'll enjoy them. I can't speak for the rest of Bad Dragon's masturbators, because they are all different sizes. My comments only apply to the Twitch and David's Muzzle masturbators.
Thanks to Bad Dragon for sending these two masturbators to us for review!
Bad Dragon Twitch
Score: 6.5 / 10
Reviewer: Adam Rouge
Performance Scoring
Design (incl my comments about size)
Desire to use again (due to size incompatibility)
Follow Adam Rouge: